---
These are flyers for films produced/co-produced in France, in the French language, or featuring French actors. VERY limited quantities are available for some titles.
The list is arranged in French title order.
Use your computer's FIND function to search your favourite film title, director, or actor. N.B. Not every actor listed here will appear on the flyer.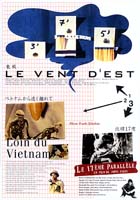 17ème parallèle, Le (17th Parallel, The) [re-release]: Joris Ivens/Marceline Loridan Ivens, France, 1968. flyer for three shows: Le 17ème parallèle, Les vente d'est (Wind from the East, 1970) and Loin du Viêt-nam (Far from Vietnam, 1967). B5. US$8.00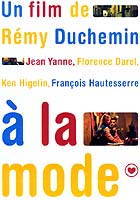 Fausto (À la mode): Rémy Duchemin, France, 1993. Ken Higelin, Jean Yanne, Florence Darel, François Hauteserre, Maurice Bénichou, Bruce Myers, Maïté Nahyr, François Chattot, Arthur H.. B5. US$8.00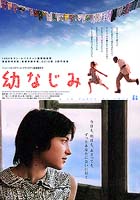 À la place du cœur (Where the Heart Is): Robert Guédiguian, France, 1998. Ariane Ascaride, Christine Brücher, Jean-Pierre Darroussin, Gérard Meylan, Alexandre Ogou, Laure Raoust, Véronique Balme, Pierre Banderet, Patrick Bonnel, Djamal Bouanane. B5. US$8.00
Adolphe de Benjamin Constant: Benoît Jacquot, France, 2002. Isabelle Adjani, Stanislas Merhar, Jean Yanne, Romain Duris, Jean-Louis Richard, Anne Suarez, Jean-Marc Stehlé, Marilyne Even. B5. US$8.00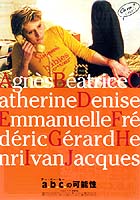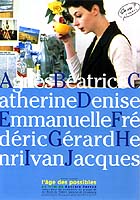 Âge des possibles, L' (Age of Possibilities, The): Pascale Ferran, France, 1996. Anne Cantineau, Christèle Tual, Anne Caillere, Isabelle Olive, Sandrine Attard, Antoine Mathieu, Nicolas Pirson, Arnaud Simon, David Gouhier, Jérémie Oler. gatefold. B5. US$8.00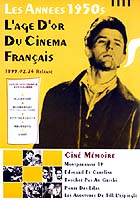 Âge d'or du cinera français, L' (Golden Age of French Cinema, The) [DVD flyer]: various directors, France, 1951-58. Montparnasse 19/Les amants de Montparnasse/The Lovers of Montparnasse/Modigliani, Edouard et Caroline, Touchez pas au grisbi/Hands Off the Loot, Porte des Lilas/Gates of Paris, and Les Aventures de till l'espiegle/Adventures of Till Eulenspiegel. B5. US$9.00
Amants réguliers, Les (Regular Lovers): Philippe Garrel, France, 2005. Louis Garrel, Clotilde Hesme, Julien Lucas, Mathieu Genet, Maurice Garrel. B5. US$8.00
Angel-A: Luc Besson, France, 2005. Jamel Debbouze, Rie Rasmussen, Gilbert Melki, Serge Riaboukine. B5. US$8.00
Anges gardiens, Les (Guardian Angels): Jean-Marie Poiré, France, 1995. Gérard Depardieu, Christian Clavier, Eva Grimaldi, Yves Rénier. B5. US$8.00
Anglaise et le duc, L' (Lady and the Duke, The): Eric Rohmer, France, 2001. Lucy Russell, Jean-Claude Dreyfus, Alain Libolt, Charlotte Véry, Rosette, Léonard Cobiant, François Marthouret, Caroline Morin, Héléna Dubiel. B5. US$8.00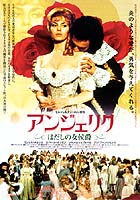 Angélique, marquise des anges (Angélique, Marquise of the Angels / Angelica): Bernard Borderie, France/Italy/Germany, 1964. Michèle Mercier, Robert Hossein, Jean Rochefort, Claude Giraud, Giuliano Gemma, Charles Régnier, Jacques Toja, Madeleine LeBeau. B5. US$8.00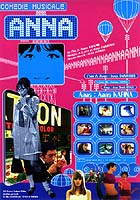 Anna [2000? world premier]: Pierre Koralnik, France, 1966. Anna Karina, Jean-Claude Brialy, Serge Gainsbourg, Marianne Faithfull. Available in two different colours -- specify blue or pink. B5. US$9.00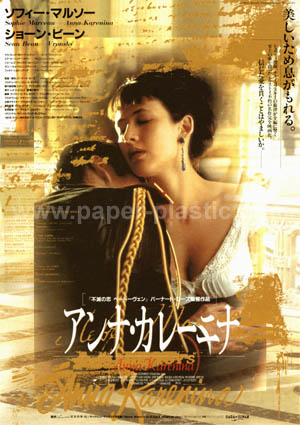 Anna Karenina: Bernard Rose, USA/Russia, 1997. Sophie Marceau, Sean Bean, Alfred Molina, Mia Kirshner. B5. US$7.50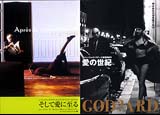 Après la réconciliation (After the Reconciliation): Anne-Marie Miéville, France/Switzerland, 2000. Claude Perron, Anne-Marie Miéville, Jacques Spiesser, Jean-Luc Godard. small, gatefold; also includes information on Éloge de l'amour (In Praise of Love) by Jean-Luc Godard; small (A6), gatefold. US$8.00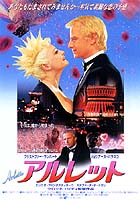 Arlette: Claude Zidi, France, 1997. Christopher Lambert, Josiane Balasko, Ennio Fantastichini, Stéphane Audran, Jean-Marie Bigard, Armelle. B5. US$8.00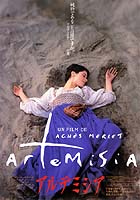 Artemisia (Artemisia — Schule der Sinnlichkeit / Artemisia — passione estrema): Agnès Merlet, France/Germany/Italy, 1997. Valentina Cervi, Michel Serrault, Miki Manojlovic, Luca Zingaretti, Emmanuelle Devos, Frédéric Pierrot, Maurice Garrel. B5. US$8.00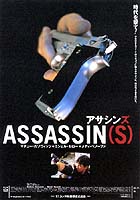 Assassin(s): Mathieu Kassovitz, France, 1997. Michel Serrault, Mathieu Kassovitz, Mehdi Benoufa, Robert Gendreu, Danièle Lebrun. B5. US$8.00
À cinq heures de l'après-midi (At Five in the Afternoon / Panj é asr): Samira Makhmalbaf, Iran/France, 2003. Agheleh Rezaie, Abdolgani Yousefrazi, Razi Mohebi, Marzieh Amiri. B5. US$8.00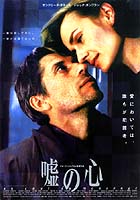 Au coeur du mensonge (Color of Lies, The): Claude Chabrol, France, 1998. Jacques Gamblin, Sandrine Bonnaire, Antoine de Caunes, Valeria Bruni-Tedeschi, Bernard Verley, Bulle Ogier, Pierre Martot. B5. US$8.00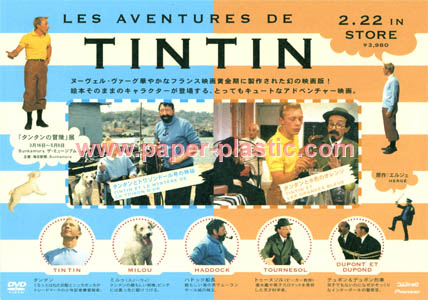 Aventures de Tintin, Les [DVD flyer]: Jean-Jacques Vierne/Philippe Condroyer, France/Belgium/Spain, 1961/1964. small DVD flyer for the films Tintin et le mystère de la Toison d'Or (Tintin and the Mystery of the Golden Fleece, 1961) and Tintin et les oranges bleues (Tintin and the Blue Oranges, 1964). B6 (5-1/16" high x 7-1/8" wide). US$8.00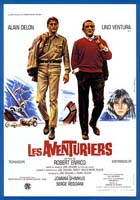 Aventuriers, Les (Last Adventure, The) [re-release]: Robert Enrico, France, 1966. Alain Delon, Lino Ventura, Serge Reggiani, Joanna Shimkus. B5. US$9.00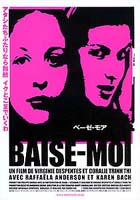 Baise-moi (a): Virginie Despentes/Coralie Trinh Thi, France, 2000. Raffaëla Anderson, Karen Bach, Céline Beugnot, Adama Niane, Christophe Claudy Landry. B5. US$8.00
Baise-moi (b) [small]: 5 x 7-1/8". US$8.00
Baise-moi (c) [small]: 5 x 7-1/8". US$8.00
Baise-moi (d) [small]: 5 x 7-1/8". US$8.00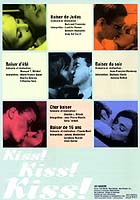 Baisers, Les (Kisses, The): Bertrand Tavernier, Bernard Toublanc-Michel, Charles L. Bitsch, Claude Berri, Jean-François Hauduroy, France, 1963. An omnibus of five films: Baiser de judas, Baiser d'été, Cher baiser, Baiser de 16 ans, and Baiser du soir. B5. US$9.00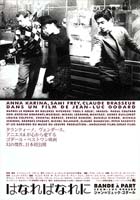 Bande à part (Band of Outsiders) [2001 first release]: Jean-Luc Godard, France, 1964. Anna Karina, Claude Brasseur, Louisa Colpeyn, Daniéle Girard (aka Daniele Delorme), Ernest Menzer, Chantal Darget, Georges Staquet, Michéle Seghers, Claude Makovski, Michel Delahaye, Sami Frey, Peter Kasovitz, the Guards at the Musee du Louvre. B5. US$8.00.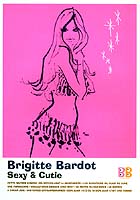 Bardot, Brigitte: 10 Films [gatefold DVD flyer]: various directors, France, France/Italy/USA, 1956-73. Cette Sacrée Gamine/Naughty Girl (1956), En Effeuillant La Marguerite/Mam'selle Striptease/Plucking The Daisy/Please Mr Balzac (1956), Les bijoutiers du clair de lune/The Night Heaven Fell/The Moonlight Jewellers (1958), Une Parisienne/Parisienne (1957), Voulez-vous danser avec moi?/Come Dance with Me (1959), Le repos du guerrier/Love on a Pillow/Warrior's Rest (1962), Le mépris/Contempt (1963), A coeur joie/Two weeks in September (1967), Histoires Extraordinaires/Spirits of the Dead/Tales of Mystery (1968), and Don Juan 1973 ou si Don Juan était une femme/Don Juan or If Don Juan Were a Woman (1973). B5. US$9.00
B comme Béjart (Béjart Into the Light): Marcel Schüpbach, Switzerland/France/Belgium/Germany, 2002. Maurice Béjart. B5. US$8.00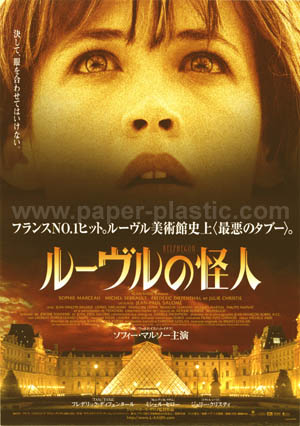 Belphegor — le fantome du Louvre (Belphegor Phantom of the Louvre): Jean-Paul Salomé, France, 2001. Sophie Marceau, Michel Serrault, Frédéric Diefenthal, Julie Christie. B5. US$7.50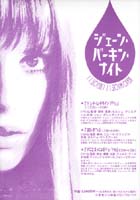 Birkin, Jane: Jane Birkin Night (3-film retrospective): Serge Gainsbourg/Pierre Grimblat/Agnés Varda, France, 1968-1987. Screening of Je t'aime... moi non plus (1976), Slogan (1969), and Jane B. (1987). Birkin's Japanese CD discography on back. B5. US$10.00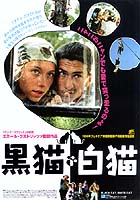 Black Cat, White Cat (Crna Macka, Beli Macor): Emir Kusturica, France/Germany/Serbia, 1998. Bajram Severdzan, Srdjan Todorovic, Branka Katic, Florijan Ajdini, Zabit Mehmedovski, Srdan Todorovic. B5. US$8.00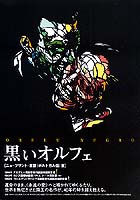 Black Orpheus (Orfeu negro / Orphée noir / Orfeo negro) [2000 re-release]: Marcel Camus, Brazil/France/Italy, 1959. Breno Mello, Marpessa Dawn, Adhemae Da Silva, Lourdes De Oliveira, Lea Garcia. B5. US$8.00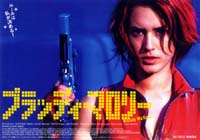 Bloody Mallory: Julien Magnat, France, 2002. Olivia Bonamy, Adriá Collado. B5. US$8.00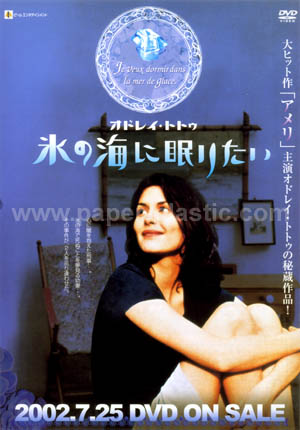 Boiteux: Baby blues, Le: Paule Zajdermann, France, 1999. Audrey Tautou. A4. US$9.50. DVD flyer.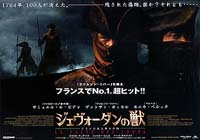 Pacte des loups, Les (Brotherhood of the Wolf): Christophe Gans, France, 2002. Samuel Le Bihan, Vincent Cassel, Emilie Dequenne, Monica Bellucci, Jérémie Rénier, Mark Dacascos. B5. US$8.00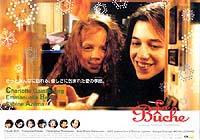 Bûche, La (Season's Beatings): Danièle Thompson, France, 1999. Sabine Azéma, Emmanuelle Béart, Charlotte Gainsbourg. B5. US$8.00
C'est quoi la vie? (What's Life?): François Dupeyron, France, 1999. Eric Caravaca, Jacques Dufilho, Isabelle Renauld, Jean-Pierre Darroussin. B5. US$8.00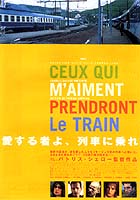 Ceux qui m'aiment prendront le train (Those Who Love Me Can Take the Train): Patrice Chéreau, France, 1998. Pascal Greggory, Valéria Bruni-Tedeschi, Charles Berling, Jean-Louis Trintignant, Bruno Todeschini. B5. US$9.00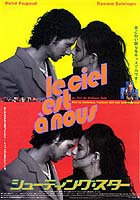 Ciel est à nous, Le (Shooting Stars): Graham Guit, France, 1997. Melvil Poupaud, Romane Bohringer, Elodie Bouchez, Jean-Philippe Ecoffey. B5. US$9.00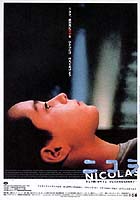 Classe de neige, La (Class Trip): Claude Miller, France, 1998. Clément Van Der Bergh, Lockman Nalcakan, Yves Verhoeven. Japanese title is "Nicolas." B5. US$9.00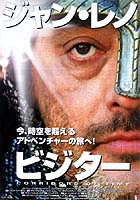 Couloirs du temps: Les visiteurs 2, Les (Corridors of Time: The Visitors II, The): Jean-Marie Poiré, France, 1998. Jean Réno, Christian Clavier. B5. US$9.00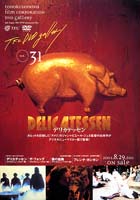 Delicatessen [gatefold DVD catalogue]: Jean-Pierre Jeunet, France, 1991. Also includes information on DVD releases of The Fog (John Carpenter), The Company of Wolves (Neil Jordan), and French Can Can (Jean Renoir). B5. US$8.00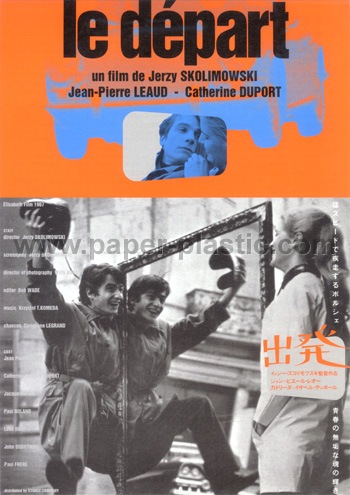 Départ, Le (Departure, The): Jerzy Skolimowski, Belgium, 1967. Jean-Pierre Léaud, Catherine Duport. B5. US$9.00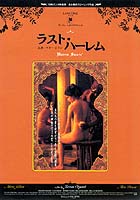 Dernier harem, Le (Harem Suare'): Ferzan Ozpetek, Italy/France/Turky, 1999. Marie Gillain, Alex Descas, Serra Yilmaz, Haluk Bilginer, Malick Bowens, Lucia Bosé, Valeria Golino. B5. US$9.00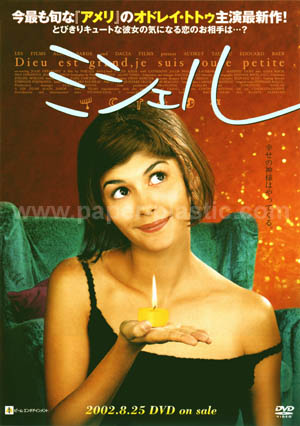 Dieu est grand, je suis toute petite (God Is Great and I'm Not) [DVD flyer]: Pascale Bailly, France, 2001. Audrey Tautou, Edouard Baer. A4. US$9.50
Dobermann: Jan Kounen, France, 1997. Vincent Cassel, Tchéky Karyo, Monica Belluchi, Dominique Bettenfeld, Chick Ortega, Antoine Bassler, François Levanthal, Pascal Demolon. B5. US$9.00
Docteur Petiot (Dr. Petiot): Christian de Chalonge, France, 1990. Michel Serrault, Pierre Romans, Zbigniew Horoks, Berangere Bonvoison, Maxime Collion, Andre Julien. B5. US$10.00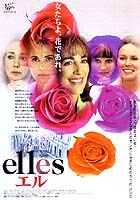 Elles (Women): Luís Galvío Teles, Belgium/France/Luxembourg/Portugal/Spain/Switzerland, 1997. Carmen Maura, Miou-Miou, Marisa Berenson. B5. US$9.00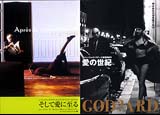 Éloge de l'amour [small; gatefold]: Jean-Luc Godard, France/Switzerland, 2001. Also includes information on Après la réconciliation by Anne-Marie Miéville on the left. A6. US$8.00
Empire des Sens, L' (In the Realm of Senses / Ai no Corrida) (a) [re-release]: Nagisa Oshima, Japan/France, 1976. Tatsuya Fui, Eiko Matsuda, Aoi Nakajima, Meika Seri. B5. US$8.00
Empire des Sens, L' (In the Realm of Senses / Ai no Corrida) (b) [re-release; small]: A5. US$6.00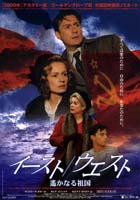 Est-Ouest (East-West): Régis Wargnier, France/Russia/Bulgaria/Spain, 1999. Sandrine Bonnaire, Oleg Menchikov, Sergueï Bodrov Jr, Catherine Deneuve, Tatiana Doguileva, René Feret, Grigori Manoukov, Atanass Atanassov, Bogdan Stupka, Meglena Karalambova. B5. US$8.00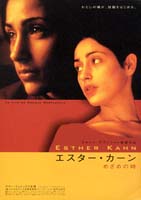 Esther Kahn: Arnaud Desplechin, France/UK, 2000. Summer Phoenix, Ian Holm, Fabrice Desplechin, Frances Barber, Ian Bartholomew, Emmanuelle Devos, Akbar Kurtha, Anton Lesser, Kila Markham, Berna Raœf. B5. US$8.00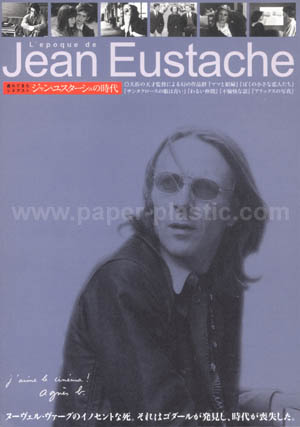 Eustache, Jean: L'epoque de Jean Eustache (retrospective) [gatefold]: Jean Eustache, France, 1963-1980. Les mauvaises fréquentations (ou du côré de Robinson) (Bad Company, 1963); Le Père Noël a les yeux bleus (Santa Claus Has Blue Eyes, 1966); La maman et la putain (The Mother and the Whore, 1973); Mes petites amoureuses (1974); Une sale histoire (A Dirty Story, 1977); Les photos d'Alix (1980). B5. US$9.00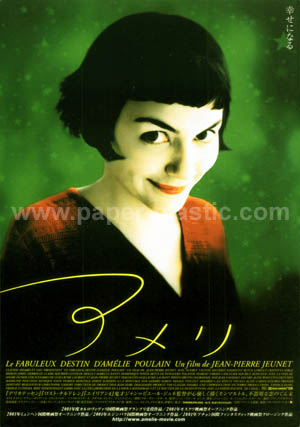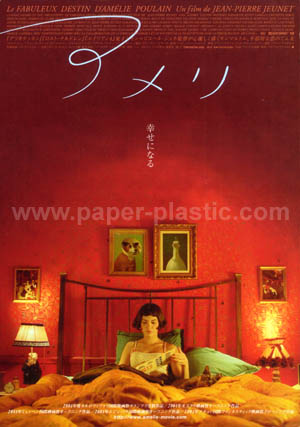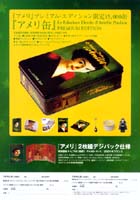 Fabuleux destin d'Amélie Paulain, Le (Amelie) (a) [green]: Jean-Pierre Jeunet, France/Germany, 2001. Audrey Tautou, Mathieu Kassovitz, Rufus, Lorella Cravotta, Serge Merlin, Jamél Debbouze, Claire Maurier, Clotilde Mollet, Isabelle Nanty, Dominique Pinon. B5. US$6.50
Fabuleux destin d'Amélie Paulain, Le (Amelie) (b) [red]: B5. US$6.50
Fabuleux destin d'Amélie Paulain, Le (Amelie) [DVD flyer]: The front is almost the same as "Amelie (a) [green]." The back is shown above. The Premium Edition DVD comes in a tin can. B5. US$5.50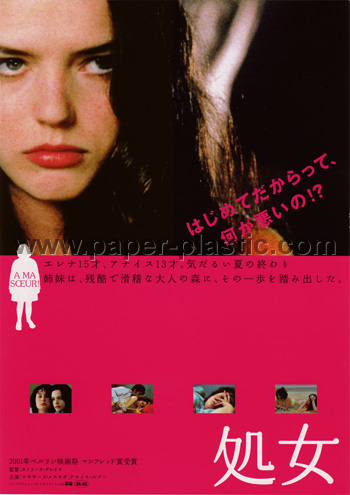 À ma sœur (Fat Girl / For My Sister): Catherine Breillat, France, 2001. Anaïs Reboux, Roxane Mesquida, Libero de Rienzo, and Arsinée Khanjian. B5. US$9.00
Felix et Lola (Felix and Lola): Patrice Leconte, France, 2000. Charlotte Gainsbourg, Philippe Torreton, Alain Bashung, Philippe Du Janerand, Ahmed Guedayia, Karim Soutan, Muriel Combeau, Didier Cauchy, Emmanuelle Bataille, Géaldine Faraoni. aka "The Fun of the Fair." B5. US$9.00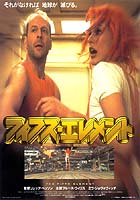 Fifth Element, The: Luc Besson, France, 1997. Bruce Willis, Milla Jovovich, Gary Oldman. B5. US$9.00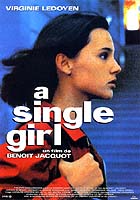 Fille seule, La (A Single Girl): Benoît Jacquot, France, 1995. Virginie Ledoyen, Benoît Magimel, Dominique Valadie, Vera Briole, Aladin Reibel. B5. SOLD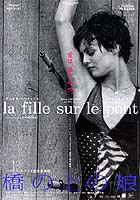 Fille sur le pont, La (Girl on the Bridge): Patrice Leconte, France, 1999. Daniel Auteuil, Vanessa Paradis. B5. US$9.00
Firelight: William Nicholson, UK/France, 1997. Sophie Marceau, Stephen Dillane, Kevin Anderson. B5. US$8.50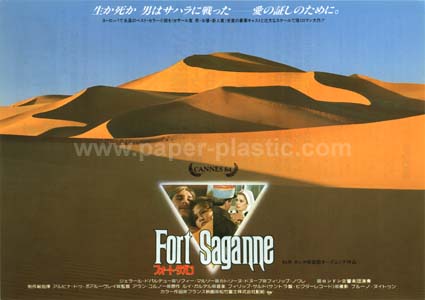 Fort Saganne: Alain Corneau, France, 1984. Sophie Marceau, Gérard Depardieu, Catherine Deneuve, and Philippe Noiret. B5. US$6.50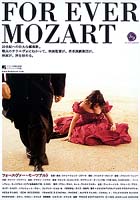 For Ever Mozart: Jean-Luc Godard, France/Switzerland/Germany, 1996. B5.00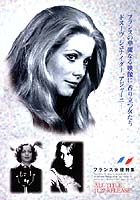 French Actresses [DVD flyer]: various directors, France, 1954-87. Catherine Deneuve in Hôtel des amériques/Hotel of the Americas, Romy Schneider in Une femme a sa fenetre/A Woman at Her Window, La banquiére, and Les Choses de la vie/The Things in Life, Isabelle Adjani in L'annee prochaine si tout va bien/Next Year If IAll Goes Well and Possession, Isabelle Huppert and Miou-Miou in Coup de Foudre/Entre Nous/Between Us/At First Sight, Françoise Arnoul in Les amants du tage, Monica Vitti in Château en Suède/Nutty, Naughty Chateau, and Nathalie Baye in De guerre lasse/Engagements of the Heart. B5. US$9.00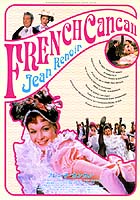 French Can Can: Jean Renoir, France/Italy, 1954. Jean Gabin, Françoise Arnoul, Maria Félix. B5. US$9.00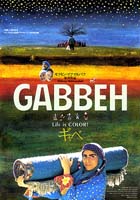 Gabbeh: Mohsen Makhmalbaf, Iran/France, 1995. Abbas Sayahi, Shaghayegh Djodat, Hossein Moharami, Rogheih Moharami, Parvaneh Ghalandari, Sassen Kermi, Zineb Kermi, Zahra Kermi, Fatema Kermi, Abdreda Kermi. B5. US$8.00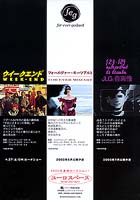 Jean-Luc Godard: For Ever Godard [3-film retrospective]: Jean-Luc Godard, France/Switzerland, 1967-1996. Weekend/Week-end (1967), For Ever Mozart (1996), and JLG-JLG - autoportrait de décembre (1995). B5. US$9.00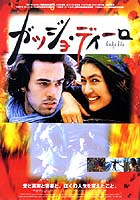 Gadjo Dilo (Crazy Stranger, The): Tony Gatlif, France/Romania, 1997. Roman Duris, Isidor Serban, Rona Hartner, Dan Astileanu, Florin Moldovan. B5. US$9.00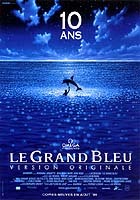 Grand bleu, Le (Version originale) (Big Blue, The (Original Version)) [10th anniversary re-release in 1998]: Luc Besson, France, 1988. Jean-Marc Barr, Jean Réno, Rosanna Arquette. B5. US$9.00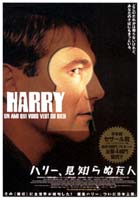 Harry: un ami qui vous veut du bien (Harry: He's Here to Help) (a): Dominik Moll, France, 2000. Laurent Lucas, Sergi López, Mathilde Seigner, Sophie Guillemin, Liliane Rovére, Dominique Rozan, Michel Fau, Victoire de Koster, Laurie Caminta, Loréna Caminta. B5. US$8.00
Harry: un ami qui vous veut du bien (Harry: He's Here to Help) (b) [w/award titles]: B5. US$8.00
Hasards ou coïncidences (Chance or Coincidence): Claude Lelouch, France/Canada, 1998. Alessandra Martines, Pierre Arditi, Marc Hollogne, Laurent Hilaire, Véonique Moreau, Patrick Labbé, Geoffrey Holder, Luigi Bonino, France Castel, David La Haye. B5. US$8.00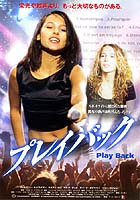 Héroïnes/Play-Back: Gérard Krawczyk, France, 1997. Virginie Ledoyen, Maidi Roth. B5. US$9.00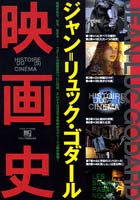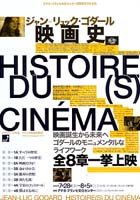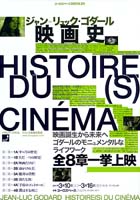 Histoire(s) du cinéma (a) [gatefold]: Jean-Luc Godard, France, 1988-1997. B5. US$9.00
Histoire(s) du cinéma (b) [VHS box set]: A4. US$9.00
Histoire(s) du cinéma (c) [2000 screening]: B5. US$9.00
Histoire(s) du cinéma (d) [2001 screening]: B5. US$9.00
Hommes, femmes: Mode d'emploi (Men, Women: A User's Manual): Claude Lelouch, France, 1996. Fabrice Luchini, Bernard Tapie, Alessandra Martines, Anouk Aimée, Gisele Casadessus, Caroline Cellier. B5. US$9.00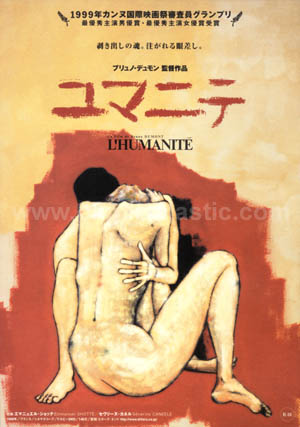 Humanité, L': Bruno Dumont, France, 1999. Emmanuel Shotté, Séverine Caneele, Philippe Tullier. B5. US$8.00
Humanité, L' [1-sided DVD flyer]: A4. US$9.00
Irréversible (Irreversible): Gaspar Noé, France, 2002. Monica Bellucci, Vincent Cassel, Albert Dupontel, Jo Prestia, Philippe Nahon, Stéphane Drouot, Jean-Louis Costes, Michel Gondoin, Mourad Khima, Hellal. B5. US$7.50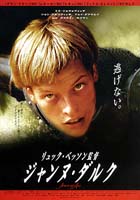 Jeanne d'Arc (Joan of Arc): Luc Besson, France, 1999. Milla Jovovich, John Malkovich, Faye Dunaway, Dustin Hoffman, Pascal Greggory, Vincent Cassel, Tchéky Karyo, Richard Ridings, Desmond Harrington, Timothy West. aka The Messenger: The Joan of Arc Story. B5. US$8.00
Jeanne d'Arc (Joan of Arc) [DVD promo mouse pad]: 7-1/4" x 6". US$15.00
Jetée, La (Jetty, The / Pier, The) [re-release]: Chris Marker, France, 1962. Hérène Chatelain, Davos Hanich, Jacques Ladoux, William Klein, Ligia Branice. B5. US$9.00
Jeu de massacre (Comic Strip Hero / The Killing Game / All Weekend Lovers): Alain Jessua, France, 1967. Jean-Pierre Cassel, Claudine Auger, Michel Duchaussoy. Music de Jacques Loussier. Bandes dessinées de Guy Peellaert. B5. US$8.00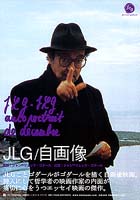 JLG-JLG - autoportrait de décembre: Jean-Luc Godard, France/Switzerland, 1995. B5. US$9.00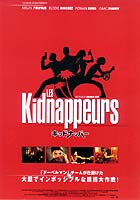 Kidnappeurs, Les (Kidnappers, The): Graham Guit, France, 1998. Melvil Poupaud, Elodie Bouchez, Romain Duris, Isaac Sharry. B5. US$9.00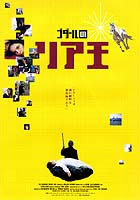 King Lear: Jean-Luc Godard, USA, 1987. Burgess Meredith, Peter Sellars, Molly Ringwald, Jean-Luc Godard, Woody Allen, Norman Mailer, Kate Mailer, Leos Carax. B5. US$9.00
Last Tango in Paris [1999 re-release]: Bernardo Bertolucci, Italy/France, 1972. Marlon Brando, Maria Schneider, Jean-Pierre Léaud, Darling Legitimus, Catherine Sola, Mauro Marchetti. B5. US$8.00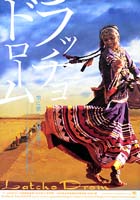 Latcho Drom: Tony Gatlif, France, 1993. Gypsies from 8 countries. B5. US$8.00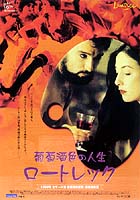 Lautrec: Roger Planchon, France/Spain, 1998. Regis Royer, Elsa Zylberstein, Anemone, Claude Rich. B5. US$9.00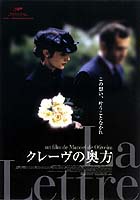 Lettre, La (A Carta / Carta, La / Letter, The): Manoel de Oliveira, Portugal/France/Spain, 1999. Chiara Mastroianni, Pedro Abrunhosa, Antoine Chappey. B5. US$9.00
Ligne de vie (Lifeline): Pavel Loungine, France/Russia, 1996. Vincent Perez, Serguei Stepantchenko, Alexandre Piatkov, Dimitri Pievtsov, Francois Morel, Tania Mechtherkina, Vladimir Episkoposian, Rasli Djabrailov. B5. US$9.00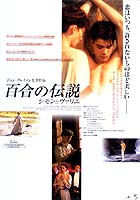 Lilies: John Greyson, Canada, 1996. Brent Carver, Jason Cadieux, Gary Farmer, Matthew Ferguson, Remy Girard, Marcel Sabourin. B5. US$9.00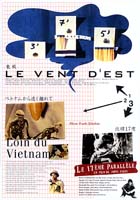 Loin du Viêt-nam (Far from Vietnam) (+ Le 17ème parallèle/Les Vente d'est): Alain Resnais/William Klein/Joris Ivens/Agnés Varda/Claude Lelouch/Jean-Luc Godard, France, 1967. B5. US$8.00
Louise (Take 2): Siegfried, France, 1998. Éloide Bouchez, Roschdy Zem, Gérald Thomassin, Antoine de Merle. B5.00
Lumumba: Raoul Peck, France/Belgium/Haiti/Germany, 2000. Eriq Ebouaney, Alex Descas, Maka Kotto, Théphile Moussa Sowié, Dieudonné Kabongo Bashila, Pascal Nzonzi, André Debaar, Cheik Doukouré, Oumar Diop Makena, Mariam Kaba, Rudi Delhem. B5. US$8.00
Ma vie en rose (My Life in Pink): Alain Berliner, Belgium/France/UK, 1997. Georges Du Fresne, Jean-Philippe Écoffey, Michèle Laroque, Hélène Vincent, Daniel Hanssens. B5. US$9.00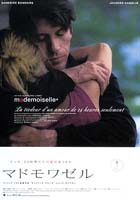 Mademoiselle: Philippe Lioret, France, 2001. Sandrine Bonnaire, Jacques Gamblin, Isabelle Candelier, Zinedine Soualem. B5. US$8.00
Maîtres du temps, Les (Time Masters): René Laloux, France, 1982. Frederic Legros, Jean Valmont, Michel Elias, Monique Thierry, Sady Rebbot, Yves Marie. Animation. B5. US$9.00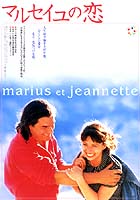 Marius et Jeannette: Robert Guédiguian, France, 1997. Ariane Ascaride, Gérard Meylan, Pascale Roberts, Jacques Boudet, Frédérique Bonnal, Jean-Pierre Darroussin, Laëtitia Pesenti, Miloud Nacer. B5. US$9.00
Marquise: Vera Belmont, France/Italy/Spain/Switzerland, 1997. Sophie Marceau, Bernard Giraudeau, Lambert Wilson, Patrick Timsit, Thierry Lhermitte. B5. US$8.50
Martha ... Martha: Sandrine Veysset, France, 2001. B5. US$8.00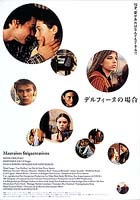 Mauvaises fréquentations (Bad Company) (a): Jean-Pierre Améris, France, 1998. Maud Forget, Lou Doillon, Robinson Stevenin, Maxime Mansion, Delphine Rich, François Berléand, Micheline Presle. B5. US$8.00
Mauvaises fréquentations (Bad Company) (b) [postcard]: A6. US$8.00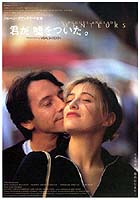 Menteurs, Les (Liars, The): Elie Chouraqui, France, 1996. Jean-Hughes Anglade, Valeria Bruni-Tedeschi, Lorraine Bracco, Sami Frey, Jean-Louis Trintignant. B5. US$9.00
Monde de Marty, Le (Marty's World): Denis Bardiau, France, 2000. Stains at bottom. B5. US$8.00
Monsieur Batignole (a): Gérard Jugnot, France, 2002. Jules Sitruk, Génard Jugnot, Jean-Paul Rouve, Michélle Garcia. B5. US$9.00
Monsieur Batignole (b) [small]: B6. US$8.00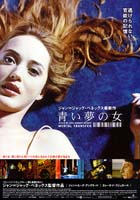 Mortel transfert (Mortal Transfer) (a): Jean-Jacques Beineix, France/Germany, 2000. Jean-Hugues Anglade, Helene de Fougrelles, Miki Manojlovik, Valentina Sauca, Robert Hirsch, Ives Renier, Patrice Grisolet. B5. US$9.00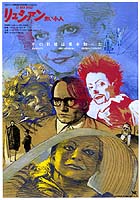 Nain rouge, Le (Red Dwarf, The): Yvan Le Moine, Belgium/France, 1998. Jean-Yves Thual, Dyna Gauzy, Michel Peynelon, Arno Chevier, Anita Ekberg. B5. US$9.00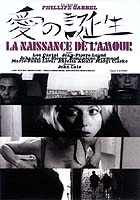 Naissance de l'amour, La (Birth of Love, The): Philippe Garrel, France/Switzerland, 1993. Lou Castel, Jean-Pierre Léaud, Johanna Ter Steege, Dominique Reymond, Marie Paule Laval, Aurélia Alcais, Margi Clarke. Music by John Cale. B5. US$9.00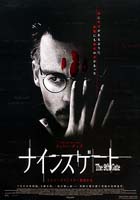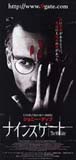 Ninth Gate, The (a): Roman Polanski, France/USA, 1999. Johnny Depp, Lena Olin, Frank Langella, James Russo, Jack Taylor, José López Rodero, Allen Garfield, Barabara Jefford, Emmanuelle Seigner, Tony Amoni. B5. US$8.00
Ninth Gate, The (b) [small]: 3-7/8" x 8-1/4". US$6.00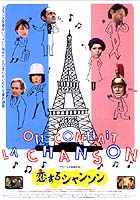 On connait la chanson (Same Old Story): Alain Resnais, France/Switzerland/UK, 1997. Sabine Azéma, Andre Dussollier, Agnes Jaoui, Jean-Pierre Bacri, Jane Birkin, Lambert Wilson, Pierre Arditi. B5. US$9.00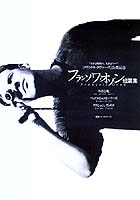 François Ozon Short Films [3-film retrospective]: François Ozon, France, 1994-97. Action Vérité/Truth or Dare (1994), Scènes de lit/Bad Scenes (1998), and La petite mort/Little Death (1995). B5. US$9.00
Ozon, François: François Ozon's Four Weeks [10-film retrospective]: François Ozon, France, 1994-2001. Features a still from Gouttes d'eau sur pierres brûlantes/Water Drops on Burning Rocks on the front. B5. US$9.00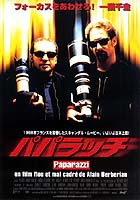 Paparazzi: Alain Berberian, France, 1998.Patrick Timsit, Vencent Lindon. B5. US$9.00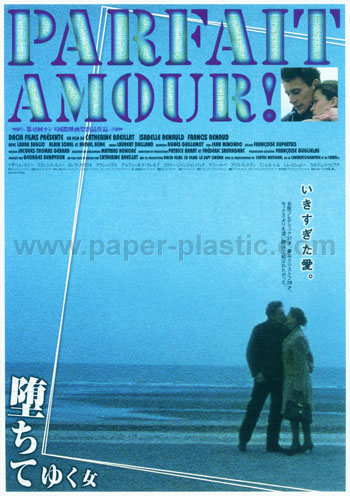 Parfait amour! (Perfect Love): Catherine Breillat, France, 1996. Isabelle Renaud, Francis Renaud, Laura Saglio, Alain Soral, Michel Rème. B5. US$9.00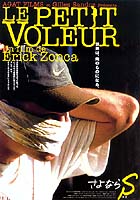 Petit voleur, Le (Little Thief, The): Erick Zonca, France, 1998. Nicolas Duvauchelle, Yann Tregouët. B5. US$9.00
Peut-être (Maybe): Cêdric Klapisch, France, 1999. Jean-Paul Belmondo, Romain Duris, Géraldine Pailhas, Julie Depardieu, Emmanuelle Devos, Bass Dhem, Léa Drucker, Hèléne Fillieres, Dominique Frot, Mathieu Genet. B5. US$8.00
Pianist, The: Roman Polanski, Poland/France, 2002. Adrien Brodi, Thomas Kretschmann. B5. US$8.00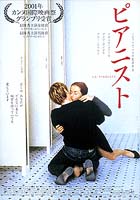 Pianiste, La (Piano Teacher, The / Klavierspielerin, Die): Michael Haneke, France/Austria, 2002. Isabelle Huppert, Benoît Magimel, Annie Girardot, Anna Sigalevitch, Susanne Lothar, Udo Samel, Cornelia Kondgen, Philipp Heiss, Thomas Weinhappel. Based on the novel "Die Klavierspielerin" by Elfriede Jelinek. B5. US$9.00
Placard, Le (Closet, The) [small; gatefold]: Francis Verber, France, 2001. Daniel Auteuil, Gérard Depardieu, Thierry Lhermitte, Michèle Laroque. A6. US$9.00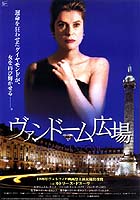 Place Vendôme: Nicole Garcia, France, 1998. Catherine Deneuve, Emmanuelle Seigner, Jean-Pierre Bacri, Jacques Dutronc. B5. US$9.00
Planéte sauvage, La (Fantastic Planet) [1997 re-release]: René Laloux, France/Czech, 1973. Animation. Graphic designs by Roland Topor. B5. US$9.00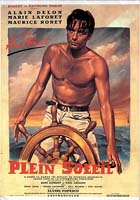 Plein soleil (Purple Noon / Blazing Sun / Delitto in pieno sole) [1994 re-release]: René Crément, France/Italy, 1960. Alain Delon, Marie Laforêt, Maurice Ronet, Erno Crisa, Frank Latimore, Bill Kearns, Ave Ninchi, Vivianne Chantel, Elvire Popesco. B5. US$9.00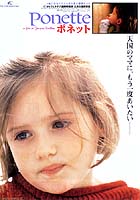 Ponette: Jacques Doillon, France, 1996. Victoire Thivisol, Xavier Beauvois, Claire Nebout, Matiaz Bureau Caton, Delphine Schiltz. B5. US$9.00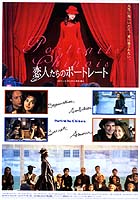 Portraits Chinois (Shadow Play): Martine Dugowson, France/UK, 1996. Helena Bonham-Carter, Romane Bohringer, Marie Trintignant, Elsa Zylberstein, Yvan Attal, Sergio Castellitto, Jean-Philippe Ecoffey, Miki Manojlovic Jean-Claude Brialy. B5. US$9.00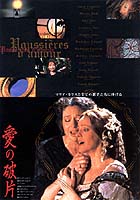 Poussières d'amour (Abfallprodukte der Liebe / Love's Debris): Werner Schroeter, Germany/France, 1996. Anita Cerquetti, Martha Mödl, Rita Gorr. B5. US$9.00
Qui ètes-vous Polly Maggoo? (Who Are You Polly Maggoo?): William Klein, France, 1966. Dorothy MacGowan, Jean Rochefort, Sami Frey, Grayson Hall, Philippe Noiret, Alice Sapritch. B5. US$9.00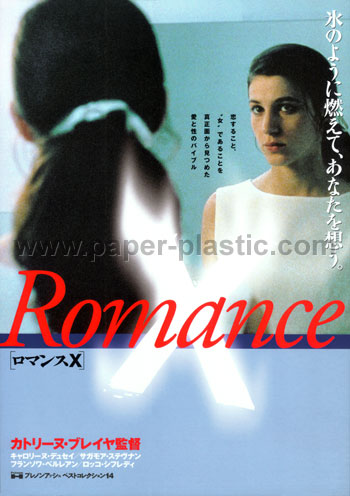 Romance: Catherine Breillat, France, 1999. Caroline Ducey, Sagamore Stévenin, François Berleand, Rocco Siffredi. aka "Romance X." B5. US$9.00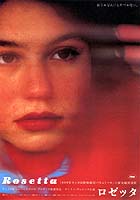 Rosetta: Jean-Pierre & Luc Dardenne, Belgium/France, 1999. Emilie Dequenne, Fabrizio Rongione, Olivier Gourmet, Anne Yernaux. B5. US$9.00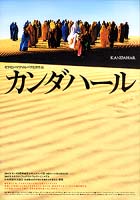 Safar é Gandehar (Kandahar): Mohsen Makhmalbaf, Iran/France, 2001. Nelofer Pazira, Hassan Tantaoe, Sadou Teymouri, and Hayatalah Hakimi. B5. US$9.00
Sauvage Innocence: Philippe Garrel, France, 2001. Mehdi Belhai Kacem, Julia Faure, Michel Subor. B5. US$8.00
Seberg, Jean [DVD/VHS flyer]: Mark Rappaport (From the Journals of Jean Seberg), France/USA, 1995. Has information on DVD/VHS releases of A bout de souffle (Breathless), Bonjour Tristesse, From the Journals of Jean Seberg, Jean Seberg: American Actress, and Jean Seberg Complete. A4. US$9.00
Serial Lover: James Huth, France, 1998. Michéle Laroque, Albert Dupontel, Elise Tielrooy, Antoine Basler, Zinedine Soualem, Gilles Privat, Michel Vuillermoz. B5. US$8.00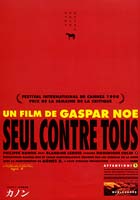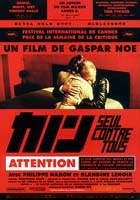 Seul contre tous (I Stand Alone) (a): Gaspar Noé, France, 1998. Philippe Nahon, Blandine Lenoir, Frankye Pain, Martine Audrain, Zaven, Jean-François Rauger, Guillaume Nicloux, Oliver Doran, Aïssa Djabri, Serge Faurie, Frédéric Pfohl, Stéphanie Sec. B5. US$9.00
Seul contre tous (I Stand Alone) (b): B5. SOLD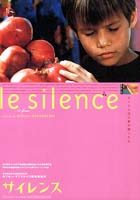 Silence, Le (Silence, The / Sokoot): Mohsen Makhmalbaf, Tajikistan/Iran/France, 1998. Nadereh Abdelahyeva, Tahmineh Normatovah, Goibibi Ziadolahyeva. B5. US$8.00
Silences du palais, Les (Silences of the Palace, The): Moufida Tlatli, France/Tunisia, 1994. Amel Hedhili, Hend Sabri, Ghalia Lacroix, Nadia Ouerghi, Kamel Fazaa, Sami Bouajila, Hichem Rostom. aka "Samt Al-Qusur" and "Samt el Koussour." B5. US$8.00
Sweet Movie [re-release]: Dusan Malavejev, France/Canada/Germany, 1974. Carole Laure, Pierre Clémenti, Anna Prucnal, Sami Frey, Jane Mallet, Marpessa Dawn, Roy Callendar, John Vernon. B5. US$10.00
Swing (a): Tony Gatlif, France, 2002. Oscar Copp, Lou Rech, Tchavolo Schmitt. B5. US$8.00
Swing (b) [small 4-panel foldout flyer]: 5-3/4" wide x 4" high. US$8.00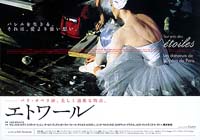 Tout près des étoiles: Nils Tavernier, France, 2000. B5. US$6.00
Trouble Everyday: Claire Denis, France/Japan, 2001. Vincent Gallo, Beatrice Dalle. Japanese title is "Gargoyle." B5. US$8.00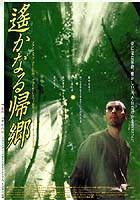 Treve, La (Tregua, La / Truce, The): Francesco Rosi, Italy/France/Germany/Switzerland, 1996. John Turturro, Massimo Ghini, Rade Serbedzija, Stefano Dionisi, Teco Celio. B5. US$9.00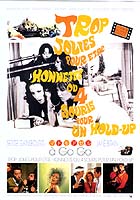 Trop jolies pour etre honnetes ou 4 souris pour un hold-up: Richard Balducci, France, 1972. Bernadette Lafont, Elisabeth Wiener, Jane Birkin, Emma Cohen, Carlo Giuffre, Serge Gainsbourg. B5. US$9.00
Truffes, Les: Bernard Nauer, France, 1995. Jean Réno, Christian Charmetant, Isabelle Candelier, Anne Roussel, Agnes Vialleton, Jean-Paul Rossillon, Marc Dudicourt, Jean-Francois Derc. B5. US$9.00
Un Amour de sorcière (Which Way Love): René Manzor, France, 1997. Vanessa Paradis, Jean Reno, Jeanne Moreau, Gil Bellows, Dabney Coleman. B5. US$8.00
Un film parlé (A Talking Picture / Um Filme Falado / Film parlato) (a): Manoel de Oliveira, Portugal/France/Italy, 2003. Leonor Silveira, John Malkovich, Catherine Deneuve, Stefania Sandrelli, Irene Papas, Filipa de Almeida. B5. US$8.00
Un film parlé (A Talking Picture / Um Filme Falado / Film parlato) (b): small gatefold flyer. B5. US$8.00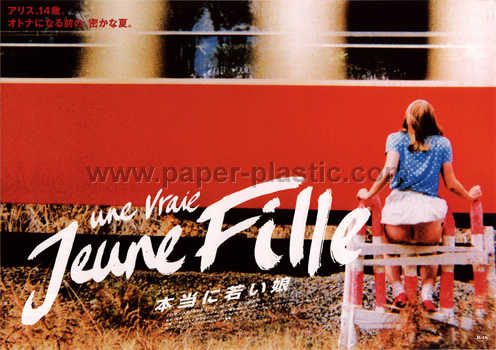 Une Vraie jeune fille (A Real Young Girl): Catherine Breillat, France, 1976. Charlotte Alexandra, Hiram Keller, Rita Meiden, Bruno Balp. Based on the novel Le Soupirail. B5. US$9.00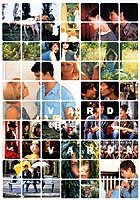 Varda, Agnès: Varda par Varda [5-film retrospective]: Agnès Varda, France, 1961-91. La Bonheur/Happiness (1965), Jane B. par Agnès V./Jane B. for Agnes V. (1987), Kung-Fu Master/Le petit amour (1987), Jacquot/Jacquot de Nantes (1991), and Cléo de 5 a 7/Cleo from 5 to 7 (1961). B5. US$9.00
Vatel: Roland Joffé, France/UK, 2000. Gérard Depardieu, Uma Thurman, Tim Roth. B5. US$9.00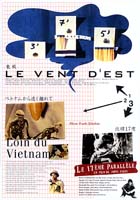 Vente d'est, Les (Wind from the East) (+ Loin du Viêt-nam / Le 17ème parallèle): Jean-Luc Godard, Italy/France/Germany, 1970. Gian Maria Volonté, Anne Wiazemsky, Glauber Rocha, Jean-Luc Godard, George Götz. B5. US$8.00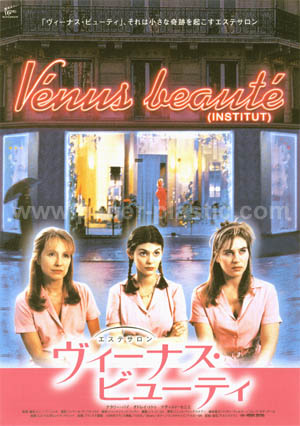 Vénus Beauté (Institut) (Venus Beauty): Tonie Marshall, France, 1998. Nathalie Baye, Bulle Ogier, Samuel LeBihan, Jacques Bonnaffe, Mathilde Seigner, Audrey Tautou, Robert Hossein, Edith Scob, Marie Rivière, Hélène Fillières, Liliane Rovère, Claire Denis. aka Venus Beauty Institute. B5. US$7.50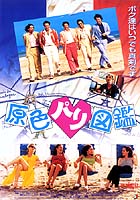 Vérité si je mens!, La (Would I Lie to You): Thomas Gilou, France, 1997. Richard Anconina, Amira Casar, Vincent Elbaz, Elie Kakou, José Garcia. B5. US$9.00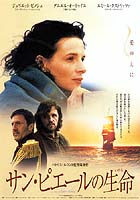 Veuve de Saint-Pierre, La (Widow of St. Pierre, The): Patrice Leconte, France, 1999. Juliette Binoche, Daniel Auteuil, Emir Kusturica, Philippe Magnan, Michel Duchaussoy. B5. US$9.00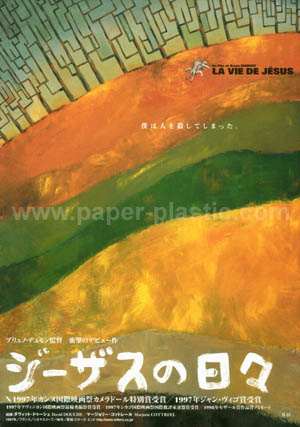 Vie de Jésus, La (Life of Jesus, The): Bruno Dumont, France, 1996. David Douche, Marjorie Cottreel, Kader Chaatouf, Sébastian Delbaere, Samuel Boidin, Steve Smagghe, Sébastian Bailleul, Geneviève Cottreel, Sonia, René Gilleron. B5. US$9.00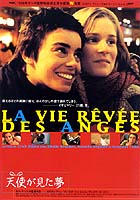 Vie rêvée des anges, La (Dreamlife of Angels, The): Erick Zonca, France, 1998. Elodie Bouchez, Natacha Régnier, Grégoire Colin. B5. US$9.00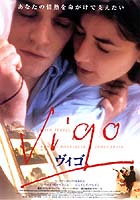 Vigo (Vigo): Histoire d'une passion (Vigo: A Passion for Life): Julien Temple, UK/France/Japan, 1998. James Frain, Romane Bohringer, Jim Carter, Diana Quick. B5. US$9.00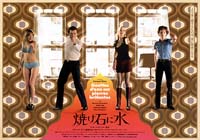 Gouttes d'eau sur pierres brûlantes (Water Drops on Burning Rocks): François Ozon, France/Japan, 1999. Bernard Giraudeau, Malik Zidi, Ludivine Sagnier, Anna Thomson. This film is based on a play written in the mid '60s by German film director Rainer Werner Fassbinder. B5. US$9.00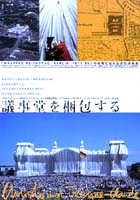 Wrapped Reichstag (Verhüllter Reichstag 1971-95 "Dem Deutschen Volke"): Wolfram Hissen/Jörg Daniel Hissen, France, 1996. Christo and Jeanne-Claude. B5. US$10.00
---